SweetTree Discover Our Blog
,
SweetTree Storms 2023's Home Care Awards with Six Nominations
"SweetTree helps people live life to the full. That is true regardless of their level of dependence, their level of need.
There are always things we can do to enhance the quality of life of those we are looking after."
~ Founder Barry Sweetbaum
Since its founding in 2002, SweetTree's premium and unique approach to care has been privilege to a number of national awards, nominations and recognitions including two Outstanding Care Quality Commission ratings in a row, being voted as Sunday Times Best Company to work for three times, as well as has holding an Investors in People Gold. All these achievements, and more, reflect SweetTree as an award-winning premium homecare provider. Therefore, it is not surprising that SweetTree has been selected as a finalist for six different categories of the 2023 nationally recognised Home Care Awards.
Home Care Awards are a national recognition of care at home. The awards partner with the Homecare Association, the only body in the UK that supports homecare providers. These awards are seen as some of the most significant differentiators for the best care at home companies in the UK. Each year clinical, medical, nurse and specialist care experts; association and institutional heads; and those with expertise in organisational management, finance and operations are selected to be the judges of this prestigious event. To ensure a fair and neutral process, the individuals of this accomplished board remain anonymous to all applicants, as well as each other, until after the rewards are revealed.
To kick the year off with a bang, last month, we received the wonderful news that SweetTree has been put forward as finalists for all the awards we entered. Notably, these include the Most Outstanding Independent Home Care Provider and the Response to Covid 19 awards. As well as these, the following were nominated within their specific categories; Brain Injury & Neurological Conditions Service, SweetTree Training Academy, SweetTree Farm and SweetTree Connect. The variety of these recognitions goes to show how all the branches of our incredible tree of care play a fundamental role in bringing to life the values of SweetTree's Missions Statement and Charter. It also sheds light on where SweetTree stands on a national level by acknowledging our incredible ability to enhance the quality of life, ranging from all team members to all of our clients.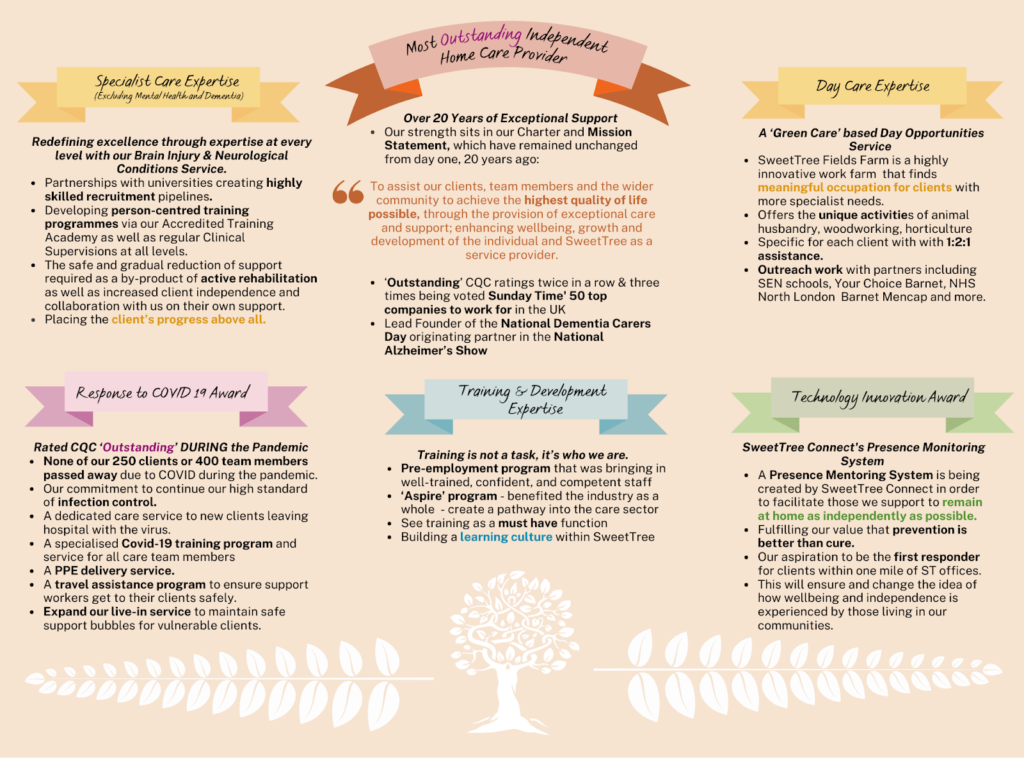 The final award ceremony will take place on the 22nd of March. Regardless of the outcome, we would like to acknowledge all the invaluable members of the SweetTree team. Our support workers, office members, SweetTree Connect and SweetTree Fields Farm team are the reason we can continue to support people in living life to the full.
Keep an eye on our website, as well as our Facebook and Instagram pages – we will be keeping you posted! If you would like to enquire about our award-winning care, feel free to call us on 020 7644 9522, we would love to hear from you!