SweetTree Discover Our Blog
,
Home Care Awards Winner: SweetTree Leads This Year's HCA with Five Wins
There are no 'ordinary' days at SweetTree (and we love that!); however, the 22nd March was a little less ordinary than most. In the midst of UK Care week, we temporarily left our London home to make an appearance at the National Home Care Awards 2023. It was a beautiful venue, filled with so many wonderful people in healthcare who do such wonderful work, devoting their lives to improve the lives of others. We were extremely proud and excited to come back to London as a Home Care Awards winner.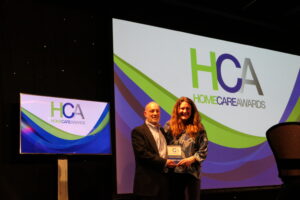 Home Care Awards: Grand Prix Gold Winner
Already happy at having been shortlisted as a finalist for six awards, nothing could have prepared us for the number of times the SweetTree name came up! Ending up not only winning the most awards but also the biggest award of the night! Representatives from our Brain Injury and Neurological Conditions Specialist Service; The SweetTree Academy; the SweetTree Fields Farm and SweetTree Connect walked away with not one, two, three but FOUR awards (and a High Commendation) for the following categories:
 Grand Prix Golden Award, for their outstanding overall performance and services for the past 21 years.
Day Care Expertise Award, in recognition of the unique SweetTree Fields Farm, which provides day care activities for their clients that promote self-development and independence.
Specialist Care Award, received by SweetTree's highly skilled Brain Injury and Neurological Conditions Service team.
Infection Control Award, in recognition of the company's highly effective response to the Covid-19 pandemic.
Additionally, SweetTree Home Care Services was also recognised with a High Commendation in the following category:
Most Outstanding Independent Home Care Provider, due to their maintained Outstanding CQC rating and shining reviews.
 What else to say but to acknowledge that the astounding success that SweetTree enjoyed at these awards is due to the commitment and heartfelt effort of every member of our SweetTree family. We would like to thank all our office team members who work tirelessly to ensure our standards of care and coordination are met. And of course, to our support workers, who live and breathe what we stand for here at SweetTree everyday but providing the highest level of support and care to our clients.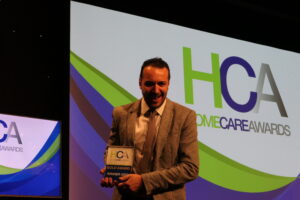 From the words of our founder, Barry Sweetbaum, "You can't deliver care without the whole team, from all the departments and individuals who are part of this family. So, we all won yesterday!" It is due to this collective effort that SweetTree Home Care Services is an Award-Winning company!