SweetTree Discover Our Blog
,
Discover SweetTree's Plant the Seed Campaign
The "Plant the Seed" campaign was designed by our very own SweetTree Care Training Academy to empower individuals with knowledge and skills that can help them grow both personally and professionally. This was in theme with Learning at Work Week which emphasizes enhancing growth and learning in the workplace nationally. During this time a wide range of courses, covering various subjects and disciplines to cater to diverse interests and learning objectives, were promoted within SweetTree. The theme of this year's Learning at Work Week was, "Create the future" and so our goal was to instil a learning culture that would continue long after the end of the campaign within the very heart of SweetTree.  
 "Develop a passion for learning. If you do, you will never cease to grow." — Anthony J. D'Angelo 
What Is "Plant the Seed"
The campaign design was built within our learning platform – Learning Pool – and ran for three weeks, from the 4th to the 28th of May. During this time the entire company, from office staff, support workers and our care farm team, took part in a competition where the platform offered badges with designated points. By the end of the three weeks, the individual that had the most points won the prize! These badges are outlined below: 
 

eLearning badge –

awarded to anyone that completes any eLearning modules. 

 

Power hour badge –

Power hours are live sessions that focus on key skills – for example effective listening or problem solving. This badge is awarded to anyone who attends a power hour session.

 

Bonus badge –

This is a course chosen on what we would like people to focus on / a topic prevalent at the time.

 

Feedback badge –

Awarded to anyone that provides the training department written feedback on any of the sessions which we can then use to advertise more sessions in the future.

 
We also used the analogy of a sunflower growing (plant the seed) that expresses knowledge as a seed that, if nurtured and cared for, can blossom into its full potential. We had a team's-based office competition in growing a sunflower and sent packs with seeds to our support worker team so that they too could take part.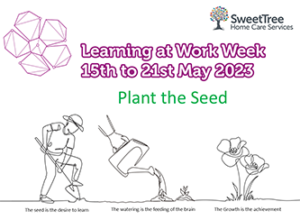 The Result
By the end of the three week competition, over 200 courses were completed and the team had enrolled on every course that had been put forward for the competition. In the top 5 places we had 3 of our support workers and 2 office staff who received their well deserved vouchers and certificates. It was a very exciting and uplifting three weeks; and has really boosted the moral around learning and growing within the company. In the words of one of the team members who took part, "How incredible to have these resources available to us through our work's very own training academy. I learned not only skills for my profession, but for my life in general. I love a bit of competition as well! I really hope we can repeat this during next year's Learning at Work Week but in the meantime I will keep an eye on what's coming up in our training calendar!" 
The Purpose of the Campaign
 Embedding this learning culture is a fundamental aspect of who we are at SweetTree for the following reasons: 
 1.
Embracing Lifelong Learning
A learning culture encourages individuals to adopt a mindset of lifelong learning. In an era where technology and industries evolve at a staggering pace, the ability to learn new skills and adapt becomes paramount. By promoting continuous learning, organizations empower their employees to enhance their professional growth, and adapt to emerging trends. 
 2.
Knowledge Sharing and Collaboration
A learning culture encourages knowledge sharing and collaboration among employees. When individuals are empowered to share their expertise and experiences, it creates a supportive environment where everyone benefits from collective wisdom. This exchange of knowledge cultivates a sense of camaraderie, teamwork, and fosters innovation as diverse perspectives come together to tackle challenges.
3
.
Building a Better Future
In line with this year's L:earning at Work Week theme, by investing in a learning culture, organizations contribute to building a better future on multiple levels. Individually, employees are empowered to reach their full potential, develop new skills, and advance their careers. Collectively, organizations become agile, innovative, and future-ready. By promoting continuous learning, organizations play a role in shaping a society that embraces growth, knowledge sharing, and adaptation—a society that thrives in an ever-changing world. 
At SweetTree we see a learning culture in the workplace as not merely a buzzword but a critical element in seeking to create a better future which is in line with our mission statement of ensuring the best quality of life for our client's and team. The campaign has been a huge success so far with over 100 courses having been completed. We hope that this revitalising energy around learning remains and grows even more within the team moving forward.