SweetTree Latest News From Sweet Tree
,
My journey of discovery, by Huntington's patient Charlotte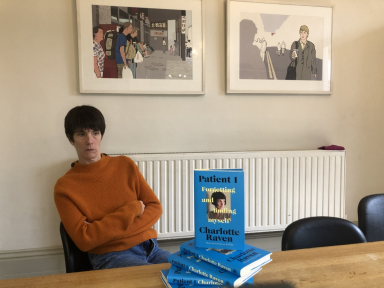 Writing a book about your own life is no mean feat at the best of times. But when you have an incurable disease that affects both your memory and your movement, it adds a whole new dimension that would put most people off attempting such a task in the first place.
Here we talk to Charlotte Raven, 52, a former national newspaper and magazine columnist, who has been receiving support at home from SweetTree for the past four years, about her new book Patient 1: Forgetting and Finding Myself, which chronicles the challenges of living with Huntington's Disease (HD). The book is available from bookstores and Amazon. 
First of all, Charlotte, tell us about your diagnosis
I was diagnosed with Huntington's Disease when I was in my mid-30s and married to Tom with a year-old daughter, Anna. My father, Murph, had been diagnosed with the disease and I made the fateful decision to Google his symptoms and discovered that offspring had a 50/50 chance of getting the disease too. I remember that day well as it was the day of the London tube bombing on 7th July 2005 and Tom, who's a documentary maker, had gone to London to do a film about the underground. I was talking to him tearfully about what I'd read online and then the phone line went dead. I was so relieved when he eventually got a signal but was blindsided by the news. I subsequently tested positive for the disease, although it was to be some years before the symptoms started to appear, by which time we'd had a son, John, in 2009.
What are the symptoms and how does it affect your day-to-day life?
The disease is neurodegenerative and is caused by a faulty gene in your DNA. It impacts the body's nervous system and affects movement, learning, thinking and emotions. It gradually gets worse and there is no cure. Someone once described HD as an illness of mourning, which seems very apt. You lose your identity, and some of your humanity, while remaining aware enough to keep a tally of every loss. It affects everything I do, including swallowing food, for which I need help from my carers from SweetTree, along with my everyday tasks, including medication, food preparation and companionship. Having SweetTree support workers has changed my life in all aspects. I've had very bad experiences with other agencies, whose carers seemed to not recognise my intelligence and it was difficult to have people who patronised me and had been trained with dementia patients, in particular. I'm so grateful to the SweetTree team for being consistent, adaptable, good cooks and interesting people, who I look forward to seeing, which is quite unique for me.
Your husband Tom was very interesting to read about. You describe him as your North Star, a great dad and cook, a utopian and then you also say: "when the disease first sent my life spinning out of control, offering wise counsel on everything from barbiturates to my failing marriage" – Do you blame HD for the "failing marriage" or did it just bring some internal issues to the surface?
Unfortunately, Tom and I are no longer together though we remain good friends and he's a great dad. He lives in a neighbouring road in London and we share the parenting of our children. Anna is now 16 years old and lives with me, while John, who is 11, lives with his dad but I see him every day after school. With an illness like this, people pull away from each other in different ways, some physically and some mentally. I think you have to think creatively about what your strengths and weaknesses are and what you can expect from each other. For people with the disease, failing marriages can be heart breaking and isolating. I'm really glad I've got my family, without whom this would be possible.
You say: "This book is a cross between an autobiography and a blog, untidy as my mind which is as untidy as my bedroom" – Why did you choose to entitle your book as "Patient 1": Forgetting and Finding Myself?
My editor thought "Patient 1" would be a good title as I was patient 1 on a drugs' trial for the illness, but the trial of the tominersen drug was halted by Roche in April as it failed to show any benefits and it was too late to change the title, though it was part of who I was at that point. I really thought the trial was going to work. I mention my doctor, Ed Wild, in the book, and in the afterword, he describes how doctors and patients are working together to try and eliminate this disease altogether. We love Ed. He's so funny and entertaining a very vivid character. He has a dog, a chihuahua, which he carries around with him!
You said: "I've found I can be philosophical about my limitations and even welcome the lessons they can teach me" – what lessons have you learned through your limitations?
I'm a nicer person now than I used to be. With HD there was a period of me being mad because of the psychological element of it. I was mad charging at everyone. But before that I was mad shouting at everyone, and it wasn't to do with HD. Why am I nicer now? It's a sort of weird humility. My brother says I have become more humble and I appreciate it. It has helped me connect more with people around me. I'm a nicer person now than I used to be.
You have been through a lot and speak critically about yourself, why do you think that is?
I think maybe I went too far in the self-critical part in this book, I was hoping for a shot at redemption. But I'm the only person who needs to forgive myself as everyone already has and I'm the last person.
How do you think that your life (personally and professionally) would look like if you have not been diagnosed with HD?
I had spent 10 years trying to write a book about feminism, but I realised it wasn't going to work. So I dumped it and I moved on to collaborative projects like 'Feminist Time'. Then I started to blog, but was concerned no-one was reading it, no one ever read my blogs. Why would you write a blog that no one reads, if you can't do any social media to promote it? It was heart breaking to spend so long on this work and know that no one was going to read it.
However, it feels like it worked out as it was good practice and then we thought about trying to make it into a book with the charismatic doctor as part of it.
Finally, you speak a lot about how important the feminist view of life is to you. How has your feminism empowered you throughout your battle with HD?
I think it's been a long old battle and feminism has been here alongside me. John wants to read my feminist books as I can't read anymore. He may be training to be a dancer but I'm preparing him to take on the mentality of a feminist intellectual, which I will pass it on to my daughter as well. This helps empower me at this time because a lot of HD families don't talk to each other.
* You can read more about Charlotte's life story here
For information and advice, contact Huntington's Disease Association