SweetTree Discover Our Blog
,
Farm Festivities and Winter Solstice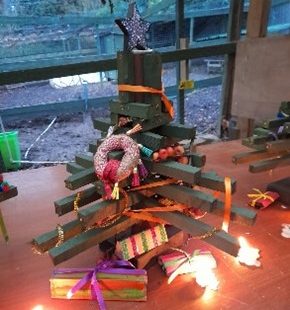 As 2020 drew to a close and brought the winter solstice, the team at SweetTree Fields Farm came together to share festive traditions and the warmth of their fire – and play lots of Christmas tunes. The team celebrated ancient traditions – when our ancestors lived as part of nature and their connection to the earth.
The last few weeks of December were a flurry of activity on the farm; with the team feeling lucky to be able to spend time together in these somewhat gloomy times; to craft, laugh and to do silly dances.
Always keen to design new projects to inspire, engage and challenge each other, this year, they took the Christmas tree tradition and put a SweetTree spin on it…
Here's a photo montage showing some of the team's efforts…
So many skills!
The team came up with the idea to create a design that could be copied; learning from what has gone before and from each other so we can improve. Each group gifted a bare tree to another group. That group, in turn, decorated the bare tree and built and gifted another tree. A lovely community project – ending with three beautiful trees – each following a pattern, yet each so unique.
(Also made: mini Christmas presents, wreaths, hand scrubs, key rings, mulling spice sachets and Christmas cards. Phew!)
It was a lovely end to the most unusual of years. We look forward to the New Year when we will come together once more to explore new projects and see what the new farm cycle brings.
Happy Solstice Everyone.