SweetTree Discover Our Blog
,
SweetTree Awarded Homecare.co.uk's 'Top 20 Home Care Providers in London'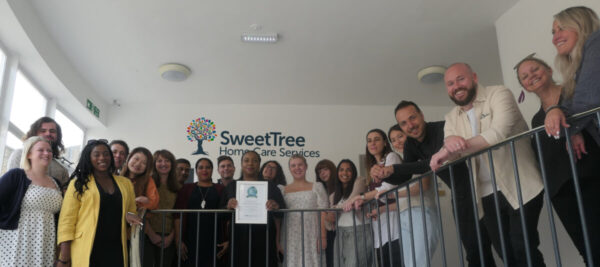 SweetTree Home Care Services has been honoured with the prestigious "Top 20 Home Care Providers in London" recognition, awarded by Homecare.co.uk. This underscores SweetTree's commitment to providing exceptional care services to our clients and our dedication to maintaining the highest standards of excellence in the home care industry.
The Top 20 Home Care Providers Award
Homecare.co.uk is a leading online reviews platform where individuals can share their experiences and opinions about home care providers. It serves as an invaluable resource for people seeking the best care services for their loved ones. The Top 20 Home Care Provider award is a highly regarded honour that recognises the top-performing home care agencies in specific regions.
For SweetTree, this award is a testament to the hard work and dedication of our team. It highlights the positive feedback and reviews from our clients and their families, showcasing the exceptional care they have received.
Why SweetTree Home Care Services Stands Out
There are several key factors that set SweetTree Home Care Services apart from other providers in the industry:
Person-Centered Care Approach
At SweetTree, we believe in tailoring our services to meet the unique needs and preferences of each individual. Our person-centered approach ensures that every client receives personalized care and attention.
Highly Trained Caregivers
Our caregivers are meticulously selected and undergo rigorous training. They are not just skilled professionals but also compassionate individuals who genuinely care about the well-being of our clients.
Comprehensive Range of Services
Whether it's specialised dementia care, respite care, or companionship, SweetTree offers a wide range of services to cater to diverse needs.
Commitment to Quality
We continually strive to maintain the highest standards of care. Regular assessments, quality checks, and client feedback help us ensure that our services are consistently exceptional.
The Impact of the Award on Our Clients
Receiving the Top 20 Home Care Provider award from Homecare.co.uk is not only an acknowledgment of our efforts but also a testament to the trust our clients place in us. This recognition provides peace of mind to current and future clients, assuring them that SweetTree is a reliable and trustworthy choice for their home care needs.
Furthermore, the award can serve as a valuable tool for those searching for the best home care provider in London. It offers reassurance that SweetTree has a proven track record of providing outstanding care services and is committed to enriching the lives of our clients.
SweetTree's Continued Commitment to Excellence
At SweetTree, we understand that receiving this prestigious award is not the end of the journey, but the beginning of a new chapter. We are committed to building upon this recognition and continually improving our services.
As we move forward, we will continue to invest in staff training, adopt innovative technologies, and enhance our care programs to better serve our clients and meet the evolving needs of the community.
If you or your loved ones require compassionate and reliable home care services in London, we invite you to get in touch with us today to explore how we can support you and your family's care needs.