SweetTree makes an impact at the Alzheimer's Show 2014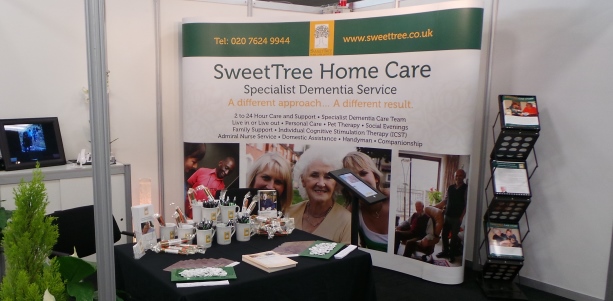 SweetTree Home Care Services was the proud sponsor of this year's Alzheimer's Show, which returned to London this May, even bigger and better than ever. The show is dedicated to people living with dementia, and the carers, relatives and professionals who support them.
Building on the success of previous years, over 60 exhibitors, care providers, charities, support services and expert speakers came together to help inform and inspire visitors.
As specialists in dementia care and with over a decade's experience supporting families and individuals with dementia, the SweetTree team created and managed a number of innovative new features on offer at the show.
One such feature was the SweetTree Quiet Lounge, a unique room specially designed to offer tranquillity and timeout from the busy exhibition space for those with dementia. Visitors could relax on a sofa with a family member or friend, enjoy a cup of tea and a pastry as well as try out aromatherapy and reflexology with an experienced health practitioner from SweetTree.
Practical Activities Workshops, run across the two days of the show, were another key feature. The varied programme brought together a collection of experts, who each gave a short demonstration on their individual area of specialism. Each workshop was designed to be interactive, engaging and practically focused, to ensure participants left full of ideas for how they may improve the lives of those they care for with dementia.
The topics ranged from music and crafts, to aromatherapy, seated exercise, specialist sensory equipment and ways to adapt the home environment. They included a session by Jude Allen, founder of SweetTree Farming For All on the positive impact of gardening and horticulture. Another popular session was hosted by Mark Wade, head chef at Arbory Residential Home, talking about the importance of good nutrition and the ways dementia can affect eating habits. He offered visitors advice on ways to adapt to changing needs, such as by using pictures, textures and colours.
Alongside this visitors to the SweetTree stand were able to talk to the specialist care team for advice on living with dementia and the different types of care and support available. They could also see a demonstration of some of the latest innovations available to help people living at home with dementia to retain their independence.
In the Exhibitor Workshop area, Nicki Bones, director of operations at SweetTree, gave a special presentation, offering visitors expert advice and ideas for helping a loved one to live well with dementia. As a registered mental health nurse, Nicki has worked in the care sector for nearly 30 years, specialising in care for those with dementia and other mental health needs. Her interactive session covered topics ranging from exercise, to ways to minimise stress and anxiety, adapting the home environment, complimentary therapies and the importance of staying socially active.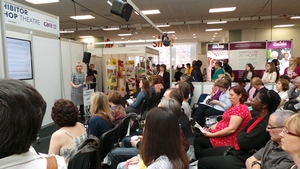 And rounding off a fantastic year, this year's show was the setting for the official launch of National Dementia Carers Day and the Creating Special Moments campaign. The national awareness campaign is a joint venture between SweetTree and charity Dementia UK and aims to recognise and inform the efforts of the thousands of informal dementia carers across the UK.
Nicki Bones joined Hilda Hayo from Dementia UK on the show's main stage to formerly launch the campaign, following an introduction by campaign supporter Baroness Greengross OBE. Informal dementia carers are now being encouraged to visit a dedicated website www.nationaldementiacarersday.co.uk to share their ideas, experiences and the innovative ways in which they make a difference to the lives of a family member with dementia.
For more details about any of the topics covered here, or for advice on living well with dementia and the different care and support options available, call the SweetTree team on 020 7624 9944.
« Back