Revolutionary to the home care industry: Specialist Dementia Nurse Consultancy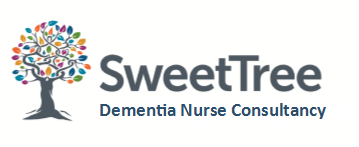 Specialist Dementia Nurse Consultancy
Supporting the person with dementia and their families by providing an independent assessment, psychological support with the aim of maintaining independence and quality of life for all.
What is Dementia Nurse Consultancy?
Our Dementia Nurse Consultancy provides assessment and contingency planning for those with a diagnosis of dementia and their families. The consultancy service provides psychological support, home and lifestyle advice, and connection to additional services.
Our service helps the community circle supporting the person with dementia to manage the challenges that arise along the dementia journey, including diagnosis, decisions, what support provision would best suit their needs and feelings of loss and bereavement as the condition progresses.
"The impact nurses have on family carers is life-changing," says SweetTree Operations Director Nicki Bones. "We are delighted to be among the lucky few who can gain access to their expertise, and share this with our clients and Dementia Team."
Statistically, following a diagnosis, research suggests families feel that the nursing profession are the best to review the diagnosis and the impact it will have on the family.
What can our Dementia Nurse Consultancy do for you?
Teach skills for managing at home
Offer advice and guidance
Undertake risk assessments
Assist with challenging behaviour
Connect you to relevant services
Advise on medical and legal choices
Liaise with other professionals
Provide care for family carers
Rikki Lorenti – SweetTree Dementia Nurse Specialist
Rikki has over 30 years' experience in mental health care and has worked extensively with both elderly and early-onset dementia clients. As well as leading community mental health teams and in-patient wards, he has also managed independent nursing homes in Yorkshire and Oxfordshire.
"As a family, you can get past the fear of a dementia diagnosis. Dementia is no reason to shrink; no reason to disappear. It is possible to live well with dementia, and it is possible for your family to live well too."
To get in touch with Rikki call us on 020 7624 9944 or email him directly at rikki.lorenti@sweettree.co.uk
« Back