It was hair today and gone tomorrow for Magda, when she decided to have her head shaved to raise money and awareness for a leading cancer charity.
Magda Dyson, a care coordinator manager at SweetTree, bravely pledged to have her hair shaved off when sponsorship reached £500. After hitting the target she kept her promise and paid a visit to the team of local stylists at Andy's Hairdressers in Fairhazel Gardens. While colleagues looked on in support, Madga said a final farewell to her hair and Angelo got to work with the clippers.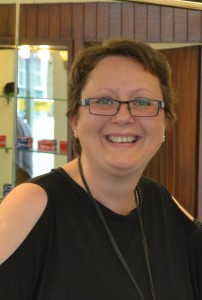 As well as shaving off her hair, Magda will be joined by a number of colleagues to complete the 5k Race For Life, taking place on 28 May at Regents Park. All the money raised by the team through the two activities will be going to Cancer Research UK.
"People who know me may think I'm a little crazy for doing this," commented Magda, "but I just thought 'what the hey'.
"Cancer is an awful disease and Cancer Research UK is doing fantastic life-saving work into preventing, diagnosing and treating it. If my actions help to raise money and awareness that will enable them to continue in their work, then it's all been worthwhile."
She added: "I'd also like to say a huge thank you to everyone who has sponsored me and the team so far. And of course to Angelo at Andy's Hairdressers, for helping me fulfil my promise. It was certainly quite a unique way to celebrate my 40th birthday!"
To support the team's fundraising efforts please click here to visit JustGiving.